With the best web hosting services, you can quickly start a blog or website and make it available to the world in no time. Talking about web hosting, you can choose from cloud web hosting services to dedicated hosting accounts and WordPress hosting to achieve your website aim.
To help you make the right choice of web hosting providers, I ranked and reviewed 15 web hosting services, including my own top 5 choices. I hope this review helps clear the confusion in your head regarding web hosting providers and that you're able to make up your mind on one of them.
Having to pick the best web hosting for your website can be difficult, because there are a thousand and one web hosting providers to compare and there are things you need to know before choosing a web hosting provider.
With each provider, there are differences in terms of prices, features, ease of use and performance. Some hosting providers also offer savings and discounts when you want to checkout.
After reading these web hosting reviews, you should be able to:
Pick the best web host for you.
Save the most money (up to 90%) at checkout with the discounts on offer.
I've been helping people setup and design websites, manage their websites and perform site migration for the best part of the last five years. I have used and managed more web hosting providers than I'm able to remember.
So, if starting a blog, a news website, a local business website or even an online store, is what you want to do, let me help you pick the best web host for you and also save you some dollars while doing so.
But before we begin, what do we mean when we talk about the best web hosting services?
What Are the Best Web Hosting Services?
Determining the best web hosting service for your website depends on a lot of factors, but when a web hosting provider has unbeatable uptime (almost 100%), reliable site speed, good security features, ease of use, good refund policy and guarantees and integrations that you need for your website, they have the features of the best web hosting services.
That said, my top 5 picks of the best web hosting providers that can assure you of all these are; 
Most of these hosting companies give very good discount prices to make getting started easy.
Here's a rundown of my top picks for the best web hosting services:
Click on any of the links below to jump straight to that section in this article.
This article contains affiliate links. I may get a commission when you buy a product via any of the links. But this is at no additional cost to you. Please read my full disclosure here.
To find out what makes each of these web hosting providers unique, let me take you through them one after the other.
---
Bluehost is the Best Web Hosting Service Provider Powering 2+ Million Websites Worldwide ($2.95/month)
What I Think About Bluehost:
Bluehost is my No. 1 choice for those whose business needs require a more tailored solution. Whether what you run is a blog, an online store or just a business website, Bluehost has something for everyone.
Best For: Tailored Plans
Price: Normally $9.99/month – $28.99/month
Annual Discount: No
Promotion: Get Started For $2.95/month
Rating: 8.5/10
Bluehost is my No. 1 recommendation for hosting platforms. Bluehost has 1-click WordPress install, 24/7 customer support for when you run into trouble with your website, free SSL certificate (for added security), FTP, and even free domain name. Their plans start at $2.95/month (63% off), and they give you all these with a 30-day money-back guarantee.
Bluehost was made with WordPress in mind and they're powering close to 3 million websites. They have an easy-to-use dashboard, that allows you to login, select your domain, 1-click install WordPress, choose your themes and create your website.
Launched 25+ years ago (1996), Bluehost boast a staff strength of over 750 employees. An uptime guarantee of 99.99%, makes them a very reliable option. They also have average load times under half a second, so site speed is never a problem. With a simple WordPress site, and their most basic plan, you can get a desktop site speed of 100 with a few simple plugins.
Bluehost has top-notch security, and their integration with Cloudflare – a content delivery network (CDN), is one of the most significant selling points for me personally. With this integration, they can prevent DDoS attacks and ward off fake traffic from different sources.
Another advantage of using a content delivery network (CDN) like Cloudflare for your website is that it also increases your site speed. A CDN does this by allowing you to host your web files on their worldwide network of servers. With this service, it shortens the time it takes to fetch data from your server based on a visitor's location.
And if extra features is what you're looking for while reading and making web hosting comparisons, Bluehost also integrates with different software in their MOJO Marketplace. For example, if a customer needs shopping cart software or e-commerce functionality, installing software is easy.
Since 2005, Bluehost has been the recommended web hosting platform by WordPress.org because of their customer service and expertise. They continually offer reliable and affordable WordPress hosting while providing their customers with products, tools and support to help them successfully manage their website. You don't need to worry about finding the correct version of WordPress, Bluehost always installs the latest version so you have the most recent features available for your website.
Key Features:
Forwarding E-mail Accounts allows you to quickly setup custom email addresses using your domain name.
CPanel Account Control Panel makes managing your hosting account a breeze.
FTP Access enables the transfer of your files back and forth through the cloud.
Unlimited Disk Storage gives you plenty of space to grow your website.
Free Worldwide CDN helps your websites open faster depending on your site visitors browsing location.
Support International Domain Names allows you to use your domain name with multiple internationalized domains.
Unlimited Domain Hosting means you can host an unlimited number of websites on your account.
Free SSL Certificate improves the security of your website
User Experience:
Bluehost makes website creation easy by providing a visual, drag-and-drop editor for those non tech-savvy individuals who want to create their own website without having to learn how to code.
The user dashboard is easy to understand and relatively intuitive. So getting started is easy, whether you are a beginner or have some website creation experience.
What I Like/Dislike About Bluehost:
Like:
Bluehost offers you free domain, which is a great way to cut cost and get started with your new website.
Without having to learn coding, you can quickly build your website with the Bluehost Website Builder.
They have 24/7 and excellent customer support to help you navigate any problems you might be having
Dislike:
Renews at a bit higher price after one year.
If you need to move to another web host, their Website Migration Fees can be pricey.
Product Updates:
Bluehost is integrated with various WordPress update releases. So you can rest assured that your website will always be up-to-date.
How to get started with Bluehost:
Proceed to www.bluehost.com and click on Get Started
Choose the cheapest plan (it's $2.95/month)
Enter a new name or select one you already own
Fill in your account information, account plan and your billing information
You can uncheck the (unnecessary) add-ons Sitelock Security and Codeguard Basic. You might not be needing them right now.
Click the Submit button and you're as good as done!
Bluehost's Basic Plan starts at $2.95/month (63% off their regular price), and I recommend you start with it.
How to save the most on Bluehost:
Plan: Get the Basic Plan at $2.95/month
Term: It will last for 36 months
Total cost: $106.20 at checkout
Savings: $181.44
---
Fast and Affordable Web Host With Up to 90% Discount ($0.99/month) for New Customers.
What I Think About Hostinger:
Hostinger's web hosting package is top-notch, even for those who are on a tight budget but still want excellent web hosting. Hostinger offers you free SSL Certificates and they're among the few web hosting services that offer free migration. They also have 24/7 customer support and a speed boost for PHP. If you're looking to start a website, and you're on a tight budget, I recommend you check out Hostinger.
Best For: Hosting on a Budget
Price: Normally $3.99/month – $19.99/month
Annual Discount: No
Promotion: Get Started For $1.99/month
Rating: 8.0/10
Hostinger is a great hosting company because of their unbeatable site speed and price. They're currently offering coupon codes for up to 76% discount off on paid plans.
If you're a developer, you can learn to code and experiment with PHP, FTP, cPanel, and MySQL without the added cost, using Hostinger. By using Hostinger's almost free hosting and learning PHP, you can learn to build free WordPress sites and hone your skills at the same time.
Hostinger has a super responsive 24/7 multilingual (20+ language) Customer Success Team. They've been known to respond to live chats in less than two minutes.
Hostinger ranks No. 1 on the list of fastest web hosting providers with an average page load speed of 136ms (according to Bitcatcha) and guaranteed uptime of 99.9%.
Hostinger uses hPanel – which is a custom, easy-to-use user dashboard. With a clean and straightforward design, it is what you need when building a site. They're also running massive sale offering free SSL certificates and domains, which significantly cuts down on your cost.
With their 1-click WordPress installation, you can start your blog free of charge with their free WordPress site. They also have a website builder (called Zyro) with thousands of templates to customize your website.
Key Features:
Lightening Fast Performance, achieved through their integration with Cloudflare CDN means that your website is cached in web servers all over the world and delivered quickly when users browse your website.
Daily Backups ensure your data safety and security.
Managed WordPress means that the technical details of running your WordPress site is left to Hostinger, while you focus on creating content.
Unlimited Database means that you never have to worry about exhausting your allocated space. You can store as much as you want.
Unlimited Bandwidth means you don't have to worry about the additional cost of attracting too much traffic. Get as much traffic as you can!
User Experience:
Hostinger's user interface is clean, intuitive and easy to understand. It features a left-hand panel that gives all the information you need to get started.
With the user options categorized into separate tabs, you can easily find what you're looking for, especially if you're not tech-savvy.
These 5 steps will get you up and running with Hostinger:
Go to www.hostinger.com and click Get Started.
Choose your desired hosting plan – you'll enjoy the best savings on their $0.99/month plan (48 months).
Enter your email and create a password.
Choose either WordPress or build your site.
Edit and publish your site.
If you're looking for a lightening fast host, with up to 99.9% uptime at a cheap price and an incredible 90% discount, I recommend you check out Hostinger for $0.99/month (you pay only $47.52 for full 48 months of hosting).
What I Like/Dislike About Hostinger:
Like:
Hostinger has multiple FTP accounts, which means you can give different people access to different areas of your site, which is great for larger businesses.
Lightening fast speed means your website can load fast depending on your visitor's location
The clean and easy-to-understand user interface means you can get started quickly, even if you don't have any tech knowledge.
You can choose the server of the desired country, which is helpful if you want your site to load quickly for visitors in that area.
Hostinger has affordable plans which means you don't have to go broke after paying for hosting.
Dislike:
Their phone support system is not up to par and could be improved.
Product Updates:
Hostinger's unparalleled focus on fast loading speed means your site will always load quickly no matter the location of your site visitors.
How to Save the Most Money on Hostinger:
Plan: Buy the Single Shared Hosting plan at $0.99/month
Term: 48 months (4 Full Years)
Total cost at checkout: $47.52
Savings: $432
---
Nexcess is Best Fully Managed WordPress Hosting ($19 per month).
What I Think About Nexcess:
Nexcess is for you if your business website is created using WordPress. Nexcess hosting will make sure your website is managed most efficiently. If what you have is an ecommerce business (and it's run on WordPress), and you'll want to scale at some point, my No.1 recommendation is Nexcess.
Best For: Fully Managed WordPress Hosting
Price: Normally $19/month – $999/month
Annual Discount: Yes – you get 2 free months
Promotion: Get 30% Off the First 3 months and 30-Day Money Back Guarantee
Rating: 9.3/10
Nexcess is the fully managed WordPress provider of choice for 500,000+ websites. Their hosting platforms also powers a variety of ecommerce stores.
Even with the Nexcess basic plan, you get 2TB bandwidth, free SSL certificate, compatibility with PHP 7, automatic image compression, and so much more, thereby making it the perfect choice for ecommerce businesses since it has everything needed to handle dynamic websites.
And if that is not enough, Nexcess offers you free WordPress migrations with all their plans. Site creation is also easy with Nexcess and you don't need any special skills to create a functional WordPress website.
Nexcess has WordPress experts available 24/7 to handle your site issues, and you can always reach out to them if you have any issues.
Key Features:
One-click Staging site (clone of your live website).
Built in CDN with 20+ server locations.
Instant and Daily backups.
Image lazy loading.
Advanced caching.
Unlimited email accounts.
WordPress core updates and WordPress plugin updates.
Unlimited traffic.
Automatic and free SSL.
Always-on security monitoring.
24/7 customer support.
For better speed and to make sure that system updates do not interfere with the code structure of your site, Nexcess uses Visual Regression testing.
Nexcess hosting plans also come powered with plugins like WP Merge, Visual Compare, iThemes Security Pro, TinyPNG, and Qubely Pro.
User Experience:
For larger business and websites for whom traffic fluctuations can be an issue, Nexcess cloud auto-scaling features allow your site to adjust server resources accordingly when there's a significant spike in your site traffic, which is great. Read more about why cloud hosting is best for your business.
In addition to their CDN, other cloud acceleration features mean that the site will load quickly no matter the site visitor's browsing location.
Pricing:
Nexcess offers seven pricing plans:
Spark – $13.30 per month (1 website, 15 GB storage, 2 TB bandwidth)
Maker – $55.30 per month (up to 5 sites, 40 GB storage, 3 TB bandwidth)
Designer – $76.30 per month (up to 10 sites, 60 GB storage, 4 TB bandwidth)
Builder – $104.30 per month (up to 25 sites, 100 GB storage, 5 TB bandwidth)
Producer – $209.30 per month (up to 50 sites, 300 GB storage, 5 TB bandwidth)
Executive – $384.30 per month (up to 100 sites, 500 GB storage, 10 TB bandwidth)
Enterprise – $699.30 per month (up to 250 sites, 800 GB storage, 10 TB bandwidth)
What I Like/Dislike About Nexcess:
Like:
Great and easy-to-use user interface to keep track of usage and server resources.
Almost 99% uptime means that your site will always be up. So your site visitors will always be engaged.
24/7 expert WordPress support means that you can quickly and thoroughly troubleshoot and problems that come up.
Dislike:
It'll be great if Nexcess can add NGINX to their arsenal of dedicated servers.
Product Updates:
They have added Support Ticket Enhancements so that users can get even better support when they need it.
Mobile Experience Improvements so people can better use your site on the go.
Click the button below to get 50% off the first six months on all of the pricing plans.
---
Best Green Energy Web Host ($2.95/mo)
What I Think About GreenGeeks:
If you're in love with green energy, then you'll love GreenGeeks, as the best green energy web hosting solution. Hosting your website with GreenGeeks means that you'll be running your website on a great host, while doing your part in helping the environment. And if that is not enough, GreenGeeks plants a tree for every new hosting account that's created. Hosting your website with them means helping the environment.
Best For: Green Web Hosting
Price: Normally $10.95/month
Annual Discount: No
Promotion: Get Started For Special Price of $2.95/month
Rating: 7.9/10
GreenGeeks is an earth-conscious web host with 10+ years of web hosting experience. They have a 99.95% server uptime and server speed under 500ms.
GreenGeeks have data centers in the U.S. (Chicago, Phoenix), Canada (Montreal, Toronto), and the Netherlands (Amsterdam).
They're a good choice if you're looking for an environmentally-conscious web host.
GreenGeeks claims that for every energy used to power their platform, they buy up 300% of that amount in wind energy credits. They're a Green Power Partner with the U.S. Environmental Protection Agency (EPA).
GreenGeeks offers you unlimited file storage, unlimited bandwidth and email accounts, including a free domain, if you sign up for their web hosting services.
GreenGeeks has a great feature which they call hosting account isolation setup. They go beyond the normal WHM/cPanel on a dedicated server.
Their VPS, container-based approach, provides dedicated computing resources and secured virtual file system (Secure vFS) for hosting accounts. With this, your website is protected against malware and malicious activities, because accounts are unable to access other accounts.
Key Features:
1-click WordPress install makes getting started with a WordPress site a breeze.
They ensure your data safety and security with On-Demand Backups.
Free Dedicated IP means that your site has a unique IP address that is not shared with any other sites. This can improve your site performance and safety.
Unmetered Transfer means you can have as much traffic as you want without having to worry about overage charges.
Free SSL certificate to improve your site safety and trust.
Your site load speed is high no matter where your visitors are located, due to Object Caching (Memcached & Redis)
User Experience:
GreenGeeks allows you to manage various SSL certificates as part of the user interface. With that feature, adding SSL certificates to your site becomes very easy.
Users have a great experience with GreenGeeks because their data is secured on SSD drives. So you can stop worrying about your site's performance and focus on creating great content.
Also with a simple and straight-forward navigation, you'll never get lost looking for anything on the dashboard.
Pricing:
GreenGeeks hosting renews at a higher renewal fee of $10.95/month after the introductory price of $2.95 for the Lite web hosting package. To be on a safer side, you can lock in this price ($2.95) for as long as three years.
What I Like/Dislike About GreenGeeks:
Like:
Bandwidth and resource allocation means that you can focus on acquiring site traffic without any added worry about overage charges.
Excellent 24/7 support, in case you run into any trouble on your website.
With object caching system, they have much improved performance on the server side.
Dislike:
Software deployment could have been easier to implement.
Product Updates:
You can have the best website performance for all your sites as GreenGeeks now offers Redis on all its Premium Hosting Plans.
How to Save the Most: 
Plan: Lite at $2.95/month
Term: 36 months
Total cost at checkout: $116.15
Savings: $225.85
---
Best Cheap Web Host ($2.78/month)
What I Think About HostGator:
The No. 1 reason I recommend HostGator is that they have been proven over the years to have up to 99.9% server uptime. So you never have to worry about your website being inaccessible when visitors try to reach it. Much like most other web hosts, they also offer 1-click WordPress installation and free SSL certificates. Also, they will give you a free domain for the first year.
Best For: Cheapest 99.9% Server Uptime
Price: $2.75/month – $5.25/month
Annual Discount: No
Promotion: Get Started for 65% Off
Rating: 8.3/10
HostGator is a very popular web host powering 9+ million websites on their eco-friendly web hosting platform. They have their head office in Houston. They're among the cheapest web hosts you can find on the internet, and they have plans starting at $2.78/month on their 3-year plans, with up to 60% in savings.
HostGator is by no means the fastest web hosting provider out there, but with average speed of just under one second, they're better than average. At 99.98% server uptime, they also surpass the industry average of 99.94%.
HostGator offers free migration within the first 30 days of signing up. And with their simple drag and drop functionality, it's easy to create your first website even if you're non-techy.
HostGator's 24/7/365 customer support is available through phone, live chat, twitter, and email, and they have pretty good response times. They also have a range of articles in their KnowledgeBase and the HostGator Blog that answers most of the frequently asked questions.
Key Features:
Free Dedicated IP gives you a unique IP address that is not shared with any other sites, which improves your site's security and performance.
Building your website is easy with their 1-click WordPress install.
Site migration is free with their WordPress/cPanel transfers.
Your site is search engine optimized with their free SEO tools.
Free positive SSL upgrade greatly improves your site's security and trust.
45 Days Money Back Guarantee means that you have enough time to try them out before deciding if they're really what you want.
User Experience:
The most popular options are easily displayed on the dashboard, so you never have to look too far to find them. This makes getting started easy.
It has a pretty easy to understand dashboard.
They have a menu that shows server stats, so that you can easily see your site's performance.
Pricing:
Their pricing is in three main tiers, Hatchling, Baby, and Business. You can get dedicated IP addresses with their higher-tier plans. You also get free tools for SEO to grow your presence online.
As already mentioned, they offer a 45-day money-back guarantee so that you can try out their plans without any risk.
To get started:
Check out www.HostGator.com and click Get Started.
Choose a domain (or add one you own).
Pick your billing cycle. For the most savings, select the $2.78/month plan for 36 months.
Enter your billing info.
Click Checkout and you're all set!
I actually recommend starting out with the Hatchling plan for just $2.75/month.
What I Like/Dislike About HostGator:
Like:
User interface is easy to understand and navigate.
Finding what you need is easy. They have lots of tools that make it so.
They're quite affordable and can save you a lot of money while starting out.
Dislike:
Sending emails in bulk can be a bit tricky and time-consuming
How to Save: 
Plan: Hatchling ($2.75/month)
Term: 36 months
Total cost at checkout: $100.08
Savings: $150.12
---
Best Professional and Enterprise Hosting ($31.50/month)
WP Engine is the best professional and enterprise hosting service provider, and they're based in Austin, Texas. They primarily focus on speed, security, and scalability. Their Managed hosting is specifically built for WordPress sites and comes at a higher price. It's not precisely hosting, but dedicated services to keep your WordPress site live.
What WP Engine offers is not hosting (in a sense), they offer dedicated services to keep your WordPress website up and alive. Their plans come at a relatively higher price, and WP Engine's managed hosting is specifically focused on speed, scalability and security, and it's built for WordPress.
WP Engine's site speed is their unique selling proposition.
Unlike most other hosting providers, WP Engine has a network of servers with aggressive caching. This makes sure your WordPress website doesn't get bogged down when you have installed lots of WordPress plugins. Their caching is so personalized to your site, they don't allow you to install any other caching plugins.
WP Engine has customer service you can rely on and for your peace of mind, they backup your files daily. They also have high-end custom plans, but you might not be needing them if your plans are not as advanced.
WP Engine has a Startup plan priced at $31.50/month and you can get up to 25k visits/month, CDN, SSLs, 50GB of bandwidth and robust performance tools. To ensure faster site load time, each WP Engine plan utilizes a content delivery network (CDN). This also gives you a staging environment to test things out before going live.
For the best premium managed web hosting, WP Engine is your best bet. Get 10% off your first payment.
How to Save on WP Engine: 
Plan: Startup at $31.50/month
Term: Monthly
Total cost at checkout: $31.50
Savings: $3.50
Read my full WP Engine review to find out why this web host is an excellent managed WordPress hosting provider.
---
Best Managed Cloud Hosting Provider – For Experienced Users ($10/month)
Signing up with Cloudways, you get cloud servers (unlike shared web hosting) which ensures you get more speed and stability. Cloudways' cloud platform is scalable and built for speed and simplicity.
Cloudways is built to support technologies that demand high performance, like HTTP/2, Nginx and Redis. For web developers, Cloudways is a robust web host, allowing PHP developers to deploy more advanced features.
Unsurprisingly, the most popular content management system (CMS) used on Cloudways is WordPress. However, Cloudways also supports other CMS platforms, including Drupal, Joomla, and Magento. As a Cloudways customer, you can get hooked up to their virtual cloud server in less than one minute and start building your headless CMS platform, and you can add more cloud servers to your account at any time.
Cloudways work with different cloud providers with differing server specs. So their pricing is based on the cloud provider you choose and the server specifications. But for a start, you can get hosting for as low as $10/month with a free 3-day trial. This actually seems like a very short time to trial a product, but it's enough to get into the platform and test out the functions.
Cloudways gives you SSL certificates with domain mapping for added site security.
Cloudways is your best option if you're a developer and want more control over your website.
---
8. SiteGround.
Best Hosting Support And Client Satisfaction ($3.99/month)
SiteGround has over 500 employees and has provided hosting services since 2014. They have excelled amiably in providing exceptional customer support and they had a 98% client satisfaction rate in 2018. Their customer support team responds to your support tickets in less than 10 minutes on average, are available 24/7 via livechat, and take phone calls in seconds.
Customer service is not just where SiteGround excels. Their servers deliver top notch performance and their PHP setup alone significantly cuts the TTFB (time to first byte) and makes your pages load 30% faster on average (99.99% uptime in 2018). SiteGround platform is built on the premium Google cloud infrastructure for top reliability, security and speed.
SiteGround startup plan starts you up at $3.99/month and it includes daily auto backups, free SSL certificate, unmetered traffic, up to 10,000 visitors/month, free CDN, free email and 30-days money-back guarantee. In addition, you get a significant discount on one-year terms (if you don't intend to pay for more years).
If what you're looking for in a web hosting provider is great customer service, you should give SiteGround a try. Their industry-best customer care team will provide exceptional support for your website.
How to Save: 
Plan: StartUp at $3.99/month + $14.99 setup fee
Term: 12 months
Total cost at checkout: $62.87
Savings: $117.05
---
9. HostPapa.
Reliable Small Business Web Hosting ($3.95/month)
HostPapa is your best bet if you're running a small business website and they currently have a 74% discount on their business plan.
This business plan include the following features: unlimited websites, free domain registration, free standard SSL certificate, over 400 business app, unlimited email addresses, unmetered bandwidth, free one-on-one training, 99.9% uptime and 30-day money-back guarantee.
HostPapa has three main plans that range from $3.95 to $12.95/month. Removing the other extras at checkout will save you an additional $49.90/year, so make sure to uncheck them.
HostPapa's Business Plan starting at $3.95/month is their most popular plan and it is what every small business owner needs. As mentioned earlier, you get unlimited websites, unlimited bandwidth, unlimited email, unlimited SSD and lots of advanced features.
How to Save the Most: 
Plan: Business Plan at $3.95/month
Term: 36 months
Total cost at checkout: $142.20
Savings: $396 (at 74% discount)
---
Best Premium Managed WordPress Hosting Powered by Google Cloud ($35/month)
Kinsta started their web hosting business in 2013. With Kinsta, you get a fast and secure website backed by a premium infrastructure. Kinsta's industry-leading integrations and developer-friendly features deliver incredible value and results. They work with WordPress experts to create powerful hosting with security, speed and stability that sets the industry standard.
Your website is managed on their MyKinsta dashboard which prioritizes security and performance. The dashboard is easy to use and you can manage users, view analytics and you resource usage all inside the dashboard.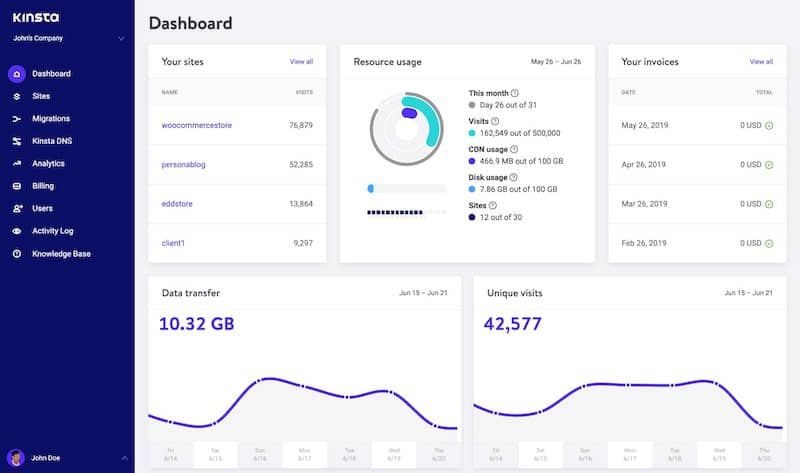 Kinsta's Starter Plan is $35 per month (get 2 months free if you pay annually). With this plan you get 1 WordPress site, 25,000 visits/month 10GB of disk space, free SSL certificate, free CDN and a staging environment. You also get free website migration.
Kinsta has a plethora of business hosting plans that scales with you as your business grows. With these higher-end plans, you get more websites, SSD storage, and monthly visitors.
All plans come with free unlimited migrations from several different hosts, automatic daily backups, manual backup points, 24/7 support, and their white-labeled cache plugin.
If you're not tech-savvy and need help setting up your site, select their $70 per month Pro Plan. With it, you get extra hosting features including their free "White Glove Migrations." These features allow you to fill out a form, and their team of engineers will set up your site for you.
Kinsta is a seriously great option if you like WordPress and are concerned with site speed and security.
How to Save on Kinsta: 
Plan: Starter (Annual) at $35/month
Term: 12 months
Total cost at checkout: $350 (Pay for only 10 months)
Savings: $70
---
Secure Web Hosting with Purpose ($1.99/month)
With 1.5+ million websites under management worldwide, DreamHost is great for WordPress hosting. They make an extremely bold statement with their 100% uptime guarantee and an impressive 97-day money-back guarantee for their shared web hosting services.
For added security, all websites are pre-installed with free SSL certificate and WordPress firewall. For their servers, each website is provisioned with multiple caching layers, auto-scaled memory and their VPS Basic provides two virtual private servers to each customer. All these helps improve speed, performance and scalability.
You can get started with the DreamHost Shared Starter plan for just $1.99 monthly, $2.95/month (12 months) or $2.59/month (36 months).
First, sign up and enter your domain information. Next, you'll also want to deselect Dreamshield Protection and 1 Mailbox if you don't need email yet.
To begin, click Sign Up Now and enter your domain information. To avoid extra costs (and if you don't need them), deselect Dreamshield Protection and 1 Mailbox from the options.
How to Save the Most: 
Plan: Shared Starter at $2.59/mo
Term: 36 months
Total cost at checkout:$93.24
Savings: $99.91
---
Affordable Web Hosting Best for Local Businesses ($1.99/month)
iPage has been the power behind over 1 million websites worldwide since 1998. They're an excellent platform for small businesses to build, market and grow their websites due to their easy website tools and low-cost.
If you need a website builder for your ecommerce site, iPage gives you access to WordPress or Weebly. You also get access to free online store, PayPal integration and shopping cart software. Great choice if you're just starting your local business and are low on cash.
They have hundreds of themes and templates integrated with WordPress or Joomla, although you're limited to just six pages with their website builder.
You'll also get free email address, custom website, and $200 worth of free ad credits for search engines like Google and Bing.
You can claim 70% off hosting and get a free domain registration at the super-low price of $1.99/month using the link below.
How to Save: 
Plan: Web Hosting Plan at $1.99/month
Term: 36 months
Total cost at checkout: $71.64
Savings: $216
---
Best Fully-Managed Cloud And Web Hosting for Business ($19.33/month)
Liquid Web is the best fully managed cloud and web hosting service, providing an unrivalled hosting experience, delivering 99.999% uptime and giving you uninterrupted access to the Most Helpful Humans in Hosting.
They have a 59 second initial response guarantee for their phone and chat support service.
You deserve a host you can depend on, and with over 45,000 customers and 500,000+ websites under management in over 10 global data centers, Liquid Web is a great choice. They have over 10 different hosting options to choose from, depending on your needs.
Liquid Web's Managed WordPress hosting starts at $19/month and is recommended if you're starting out a new website. You'll get access to 1 website, 2 TB bandwidth, 15 GB SSD storage, backups every 30 days, unlimited email accounts and Beaver Builder Lite.
Get started with Liquid Web's 14-day free trial.
Here's How to Save on Liquid Web: 
Plan: Managed WordPress Hosting – Spark (Annual) at $15.83/month
Term: 12 months
Total cost at checkout: $190.00
Savings: $38.00
---
Cheap Managed WordPress Hosting ($3.99/month)
InMotion Hosting is a secure, fast and reliable web host you can trust. Their hosting packages ranges from virtual private server (VPS), cPanel, shared, dedicated, reseller and WordPress.
InMotion Hosting has over 20 years of web hosting services expertise and has been certified for over 15 years by CNET. They also received Better Business Bureau (BBB) A+ rating. They are currently serving over 170,000 customers in over 60 countries.
With 99.9% uptime guarantee and security monitoring, and over 500,000 WordPress installations and counting, you will be best served hosting your website on InMotion's secure servers. Their servers have custom firewalls, hacking protections and DDoS protection.
InMotion has WordPress plans starting at $3.99/month. With this plan, you receive up to 10x WordPress performance, up to 20,000 monthly visitors, free lifetime SSL, 100GB NVMe SSD storage, two websites, 10 emails, 24/7/365 customer support and unlimited bandwidth.
I recommend InMotion Hosting if you're in the market for WordPress site speed with prices that will not bore holes in your pocket. Your satisfaction is also guaranteed with their industry leading 90-day full money-back guarantee.
How to Save on InMotion Hosting: 
Plan: WordPress Hosting WP Core at $3.99/mo
Term: 24 months
Total cost at checkout:$95.76
Savings: $180
---
Best Fully Managed Shared Windows Hosting ($5.49/month)
AccuWeb Hosting has been providing web hosting services to customers the world over for around 19+ years now. They're based in New Jersey, USA. They're known for providing VPS, WordPress, shared, reseller and most popularly, Windows hosting solutions. Microsoft approved them as a WebMatrix Compatible Hosting company.
AccuWeb Hosting provides Windows Hosting on blazingly fast servers, Windows 2016 OS, and Plesk Panel. All Windows hosting plans come with a dedicated application pool, the latest .net core support, SQL and MariaDB databases, the latest PHP support, and much more. With AccuWeb, customers get affordable windows hosting plan with an SSD or Cloud solution.
AccuWeb Windows hosting plan gives you the freedom to choose which features you need the most, so you're always in control. Their pricing structure is based on the amount of features you choose, and you can always scale up or down as much as required.
You can get started with their 50% discount on Windows Shared Hosting at $5.49/month (for 36 months), and their Windows VPS Hosting for a 21% discount at $9.99/month (for 12 months).
AccuWeb Hosting has won PCMag's Editors Choice Awards 4 years in a row, and it's for a reason. If you're looking for an affordable, dedicated and scalable VPS solution, with unrivalled quality, AccuWeb Hosting is your best choice.
---
Best Web Hosting Services of 2023 (My Top 5 Picks)
Below is a summary of my top 5 best web hosting services. If you read this far into the article, you might have started getting some confusion about which web host to choose for your personal blog, small business website or whatever else you need a website for, having weighed all the pros and cons and seen all the features of the different web hosting services I talked about.
Check out any of the web hosts in my list of the top 5 recommended web hosting services below to give you an idea of where to start.
Best Web Hosting Services 2022
---
What Are the Best Cheap Web Hosting Services?
My best cheap web hosting services comparison presents plans that the prices range from $0.99/month to $3.99/month. With these plans, you get affordable hosting, but with some conditions. Some of the web hosting services will require you to buy plans for a longer term to get the discounts.
You should also be aware that the price for renewal is usually higher than the startup price.
Please note, these rankings are made strictly based on the prices.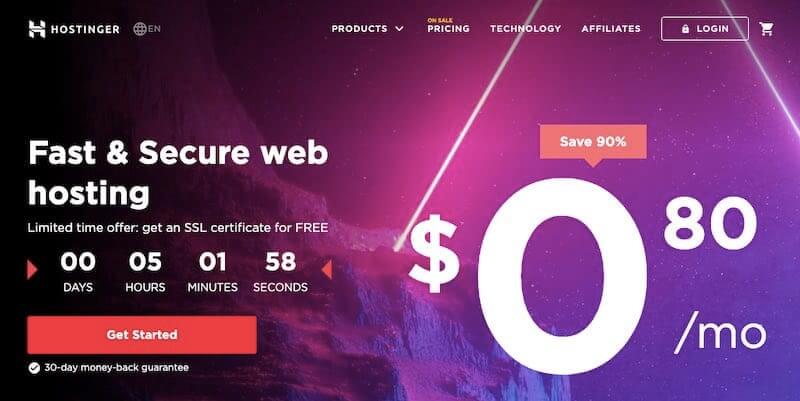 Here are my top picks for cheap web hosting: 
Best Cheap Web Hosting 2022
---
Summary – Best Web Hosting Services
Getting a good web host for your website is a must if you want to rank high on search engines. And depending on the type of online business you do, like if you're a coach teaching online courses on your website, or you're a business running webinars on your own domain, or yours is a music streaming or video download website. For all of these examples, you must consider the best web hosting services for your website type.
Are you considering a switch? Which web hosting provider are you currently using? Which one do you want to use for your next website? Let me know in the comments.
Disclosure: I may receive compensation for some of the links in this article, at no cost to you if you decide to purchase a paid plan. You can read my full affiliate disclosure in my Privacy Policy page to find out more.
---
Latest posts by Dienye Diri
(see all)
Last Update: July 4, 2023 by Dienye Diri